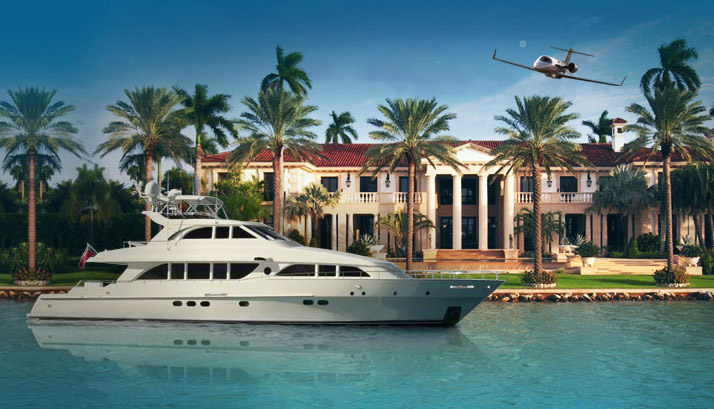 At any given time in our life we all make short and long term goals which can range from reaching savings goals to finally owning your dream home, vacation villa, private plane or Mega Yacht.
Of course not all of these goals need to fall under the category of necessities. Perhaps you've longed to own your own private yacht to take out whenever the mood strikes or to simply relax after a fruitful but tough day at the office. Or you've always longed to travel the world and would prefer your own private aircraft so you can be lounging in the gorgeous sands of Jamaica one day and then exploring the rich and romantic culture of Italy the next.
At Global Financing Services, we believe that you shouldn't have to put any of your goals on hold and deny yourself the experiences and opportunities that complement your lifestyle and make life so diverse. While we specialize in real estate financing, our services also extend to private aviation and aquatic vessels, the latter through our Global Marine Division.
We understand that your needs may include the purchase of a Caribbean villa or a vacation home outside the United States or a Penthouse in Miami. Our Global Financing Services partners consist of a vast network of banks, mortgage brokers, and private lenders located around the world, ensuring that you'll always be dealing with a knowledgeable and trusted network of financial institutions and professionals.
Why dream of where you can be living or what country you can be visiting? At Global Financing Services we believe your goals shouldn't take a lifetime. Please explore our website to learn more about the many streamlined and comprehensive financing services we have available in order to assist you with your financing needs.


Updated: Saturday, December 9, 2023




30 Year Fixed
2.875
0.00%
15 Year Fixed
2.625
0.00%

Copyright© 2008
GLOBAL FINANCING SERVICES CORPORATION
| 407 Lincoln Road, Suite 6J Miami Beach, FL 33139
Phone: (305) 749-5354 | Fax: (305) 749-5354 |
info@globalFinancingServices.com